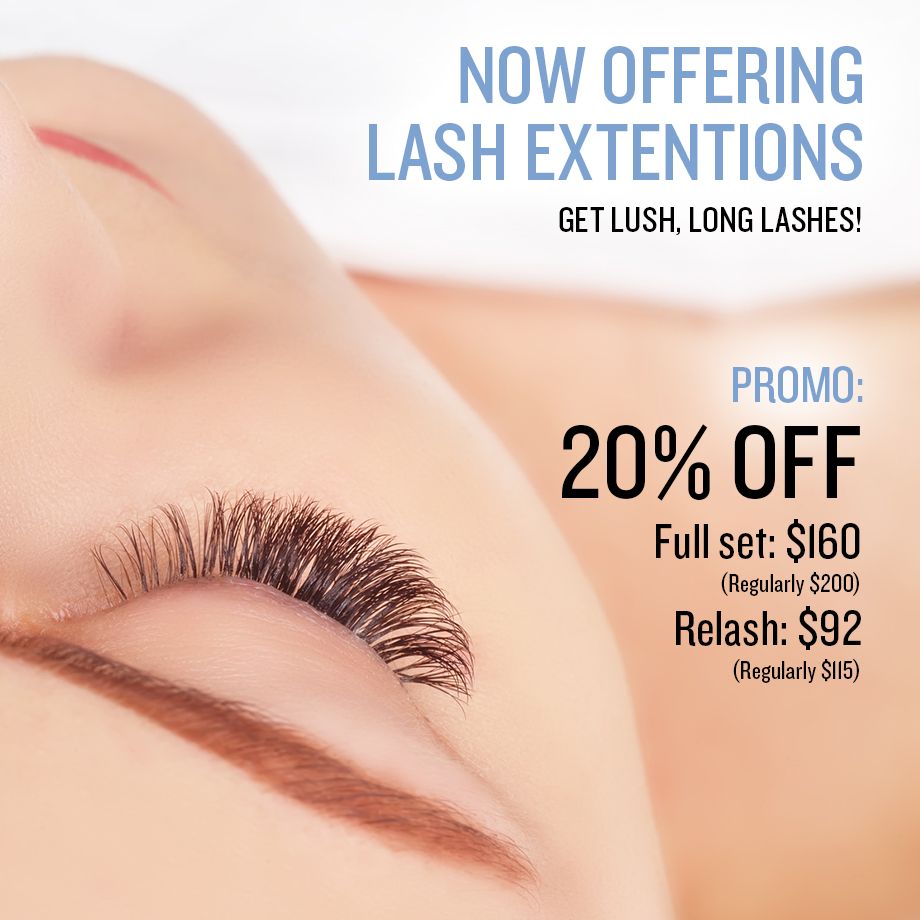 We are thrilled to offer our newest service: Lash Extensions!
Lash extensions are the perfect way to have longer, fuller, very natural, and dark eyelashes without taking the time to put on mascara or falsies every day. Just wake up and go! The lashes are made to look identical to human lashes. Our lashes are made of synthetic material, which is very soft and naturally curved. Using a delicate and state-of-the-art application technique, one lash at a time is applied onto each existing lash. Our lash specialist, Molly, is state-trained and certified by Occhi Lash and Brow Studio in Oakbrook Terrace, IL.
Because this application process is very delicate and detailed, expect 2 hours to complete your full sets of lash extensions.
Lashes will stay on the lash until your natural lash life cycle grows out. As long as you're maintaining the lash properly, lashes will stay on. Check out our recommendations for proper at-home lash care below.
You can come back in for lash refills every 2 to 3 weeks in order to maintain your full and lush lash look.
Check out some of Molly's work below. As you can see, lash extensions look fuller but still natural: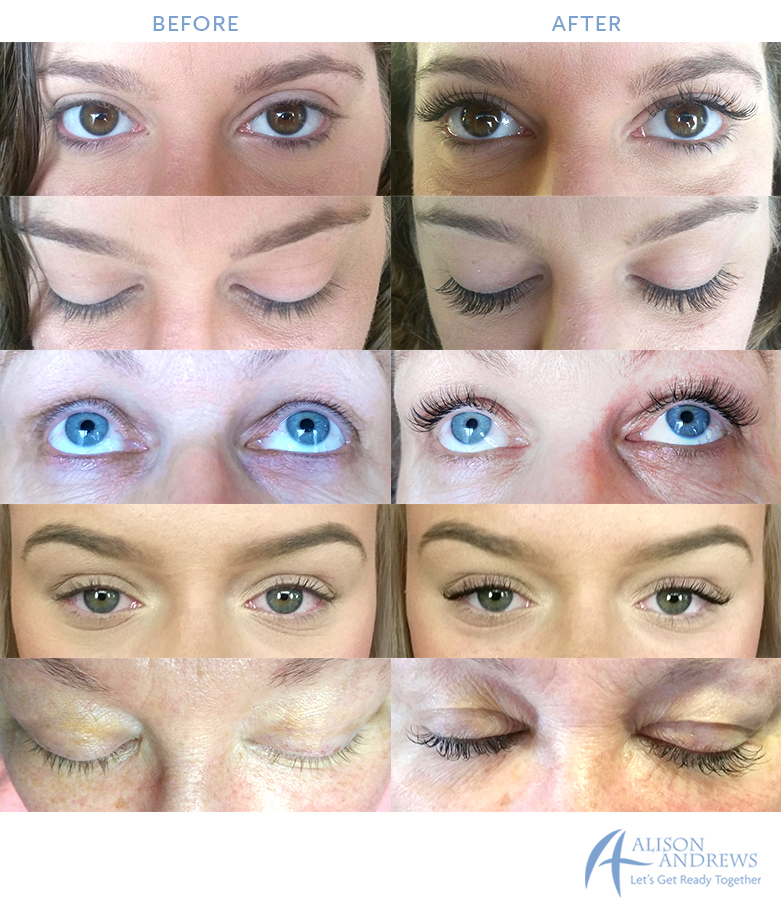 Ready to try lash extensions of your own? Take advantage of our introductory promo!
20% OFF Full Set, $160 (Reg. $200)
Relash $92.00 (reg. $115)
If you'd like to save some time before your appointment, please download, print, and fill out our Lash Consent Form and bring it with you when you come in for your appointment.
At-Home Lash Care:
Avoid getting lashes wet for 24 hours after your service.
Avoid steam showers, facial steamers, saunas, or tanning beds.
No perming or using lash curlers after extensions are applied.
Only use powder or liquid liner. If you must wear mascara, do not use waterproof mascara, and be very careful when removing. (Note: Wearing mascara may affect the longevity of your extensions.)
Cleanse your eyes with Occhi's Eye Shampoo. Oil based products will affect the adhesive, causing your lash extensions to fall out prematurely.
The use of Sterilid or Occusoft is recommended (found at any drug store), applied with a Q-tip at night after removing makeup. These are designed for the eyes and are antibacterial and antiviral to prevent infection.
We recommend Occhi's Lash Support, a Biotin supplement designed to stimulate and promote lash, hair, skin, and nail growth.
With regular use of Hi Brow Growth & Conditioning Serum, the hair will appear more conditioned, smoother, and glossier. A topical treatment aids in the stimulation of healthy hair growth.
To protect your lashes while sleeping, we recommend using a small pillow that allows you to sleep on your side or stomach without damaging your lashes.
If you exercise, please clean your eyelids immediately after, as oil and sweat will affect the lash extensions.
You may brush out your lashes with a spooly as needed. Close your eyes and carefully brush downward to comb them into place.